My name is Michelle (friends call me Mick) and I live in New England with a big, furry, photobombing Maine coon cat named Layla. My full-time gig is as Art Director for the Patriots and Patriots Football Weekly. I have 25+ years experience in print design and 15+ years experience dabbling around with websites. I'm a graduate of Keefe Tech's Graphic Arts program (where I still serve as Chairman of the Graphics Advisory Board) as well as a graduate of RISD's Web Design & Development program.
When my work day is done I spend my free time lifting things up and putting them down, road tripping to comic cons and concerts, and taking photos. I like to squeeze as much productivity, creativity, and any other ivities I can out of each of my 24-hours. I read a tweet that resonated with me so much it hangs on my cubicile wall. I try to accept this challenge everyday...
The Beatles recorded their debut LP, 'Please Please Me,' in one 10-hr day. So. You know. Have a productive day.
From the blog…
I designed the 2013 New England Patriots pocket schedule, and right now you can vote for which player you want on the cover! To vote, please visit the New England Patriots Facebook page and leave either "Brady" or "Wilfork" in the comments section under the photo, or you can @Patriots on Twitter with the hashtag [...]
A picture I took of Wilson when I was relatively new to Instagram. When you looked out my patio door, there was Wilson the Tree. He didn't live in my yard, but in the yard next door. Ever the nosy neighbor, this particular tree seemed to always peek over the fence to check out what was happening on my little patio – a behavior which [...]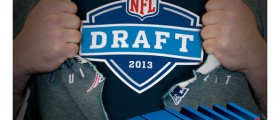 Every year for our Patriots Football Weekly pre-Draft issue, we like to have some sort of design "theme" to it – this year we chose movies. After much discussion as to what to do with the cover, we decided to spoof the movie Superman and do a sort of movie poster look along those lines, [...]